Click on the banner to see the complete tour schedule. 😀
Welcome to my stop of the blog tour for the book "The Ghost Chronicles" by Marlo Berliner, hosted by Prism Book Tours.
Let's get on with the review, shall we? 🙂 
---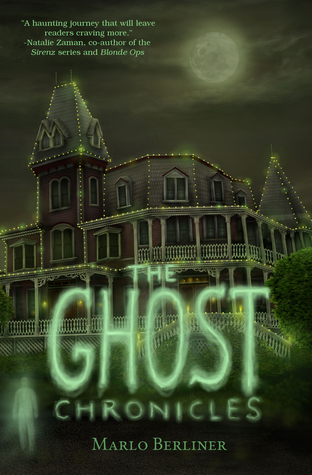 Title: The Ghost Chronicles
Author: Marlo Berliner
Genre: Paranormal, Fantasy
Publishing date: November 2015
Published by: Teddy Blue Books
Pages: 332
My Rating: 4/5 stars
---
Summary:
Can Michael get to heaven before the devil gets him first, and if it means leaving Sarah is he sure he still wants to go?
Michael Andrews had everything – a loving family, a great girlfriend and a promising basketball career. That was before the accident that took his life. Now, he's a ghost, wandering among the living, struggling to understand why he's stuck. All he wants is to move on.
That is until he meets Sarah, an attractive young girl who died just as tragically as he did. The only trouble is falling in love and binding oneself to another soul is forbidden, for it may keep one or both of the souls bound to earth for longer than they should be.
To make matters worse, there's also a danger in going too far with Sarah, because the "joining" of two souls in the afterlife is also strictly forbidden and they don't know what will happen if they do go that far. Each time they touch they can feel the boundaries of their energies slipping perilously into one another.
Things get even more complicated as Michael learns he's being pursued. Demons are after him because he's a marked soul, a soul the devil wants very badly for some unknown reason.
So, maybe falling in love in the afterlife isn't such a good idea.
---
My Take:
Can Michael get to heaven before the devil gets him first, and if it means leaving Sarah is he sure he still wants to go?
This is the premise of the book. Everything in this book seems to be written with great thought and care. Nothing seemed to be rushed or ignored. The summary of the book is a good example in itself. 😉 How well it explains the book in few words. This summary actually summarizes the book. Kudos to the author for that! 😀
This is from where the real story starts,
with the death of Michael. It is so well written that you can feel yourself at his place. The confusion that Michael goes through in the start makes you reach out for him. He slowly figures out that he will never be able to walk on earth alive again.
Seeing his family mourn for him and not being able to do anything is such an emotional scene.
Michael is a good kid who died at eighteen. A kid with so much potential, a caring brother, a loving son, a responsible and understanding boyfriend, a good basketball player; with no fault of his, everything comes to an end for him.

After getting through the initial shock of being dead and trying to figure out how death works, Michael starts searching for answers.
That is when he meets Tom. Tom is also a phantom, a protector. He guides Michael throughout the book. Although giving Michael all the answers at once would have been much easier but, well, that's not how it works, right? 😛
I loved this explanation Tom gives about the souls or energies, as he explains, being stuck on earth, among the living.
The way Tom explained being dead, our use of mind, being ghosts, I found it all very reasonable. Paranormal that makes sense? Too good. 😛 😉
Then comes the devil. Now's the time to get you some action. The Devil logic was also borderline smart. I think there was not a single part in the book that would challenge intelligence or stoop for stupidity.
Michael was sure whining for almost the whole book as if he was the only one who had problems. When Tom tells him this, I was like, "It's high time someone told him that. Thank you, Tom." 😛
All in all this is an entertaining book but not much happens in the book. The summary is the actual length of the story. The rest is all Michael whining, trying to figure out things, Tom disappearing and giving next to no information. At the end guess what happens, you are left hanging, yes, there's going to be another book.
Why does this happen? Hello, I am hanging here, can we get the new book already? 😛
---
Why would I pick it up?
Learning how to be dead? Yes, please! 😉 😛
---
Author's Bio:
Formerly an accounting manager for a Fortune 500 company, Marlo is currently an intern with a literary agency based in New York City, as well as, an editor at Chimera Editing. Marlo writes young adult, women's fiction, and short stories. She is currently working on her third novel.
When she's not writing or editing, Marlo loves reading, relaxing at the beach, watching movies, and rooting for the Penn State Nittany Lions. After having spent some wonderful time in Pittsburgh and Houston, she's now back in her home state of New Jersey where she resides with her husband and two sons. This is her first novel.