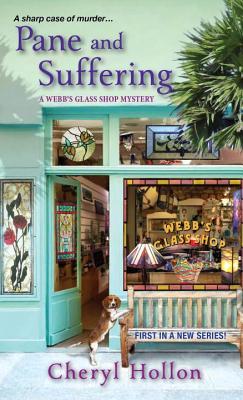 Title: Pane and Suffering (A Webb's Glass Shop Mystery #1)
Author: Cheryl Hollon
Genre: Mystery & Thrillers, Crafts & Hobbies
Publishing date: 29th September , 2015
Published by: Kensington
Pages: 320
My Rating: 4/5 stars  
*ARC received from the publisher via NetGalley in exchange for an honest review*
---
Synopsis:
To solve her father's murder and save the family-owned glass shop, Savannah Webb must shatter a killer's carefully constructed façade. . .
After Savannah's father dies unexpectedly of a heart attack, she drops everything to return home to St. Petersburg, Florida, to settle his affairs–including the fate of the beloved, family-owned glass shop. Savannah intends to hand over ownership to her father's trusted assistant and fellow glass expert, Hugh Trevor, but soon discovers the master craftsman also dead of an apparent heart attack.
As if the coincidence of the two deaths wasn't suspicious enough, Savannah discovers a note her father left for her in his shop, warning her that she is in danger. With the local police unconvinced, it's up to Savannah to piece together the encoded clues left behind by her father. And when her father's apprentice is accused of the murders, Savannah is more desperate than ever to crack the case before the killer seizes a window of opportunity to cut her out of the picture. . .
---
My Take:
Mystery with a chance to learn something new, why not? 😀
This book is very well-written and the way the mystery is solved is more interesting than the mystery itself. Savannah, who comes back to Florida when her father dies of heart attack, and finds his dad's partner to be dead with a heart attack too after her father's funeral, becomes suspicious of foul play. She finds a letter addresed to her by her dad. This is where the stuff gets interesting. I had a subject last year that dealt with Computer Security and learnt about the different encryption methods. I loved the ciphers very much and when this book started showing interest in ciphers too, I couldn't put the book down. 😛 😛
I was aware of the first cipher that was used in the beginning of the book but not the last one at the almost end. (I might google it later, to learn it properly. 😛 ) Puzzles have always had my undivided attention. The answers to the mystery to deaths was a puzzle that Savannah's dad hid with puzzles and geocaching. (Another new concept learnt. 😀 Well, I wasn't aware of this earlier. 😛 )
I present you with the wikipedia explanation- 😛
Geocaching is an outdoor recreational activity, in which participants use a Global Positioning System (GPS) receiveror mobile device and other navigational techniques to hide and seek containers, called "geocaches" or "caches", anywhere in the world.

A typical cache is a small waterproof container containing a logbook (with a pen or pencil). The geocacher enters the date they found it and signs it with their established code name. After signing the log, the cache must be placed back exactly where the person found it. Larger containers such as plastic storage containers (Tupperware or similar) or ammunition boxes can also contain items for trading, such as toys or trinkets, usually of more sentimental worth than financial. Geocaching shares many aspects with benchmarking, trigpointing, orienteering, treasure-hunting, letterboxing, and waymarking.
There is so much well explained information on working with glass, it blends well with the story and doesn't look forced at all. It also provides with relevant information at the end of the book to understand the terms better. That was good. 😀 (Ahh… the things you learn while reading. 🙂 )
So, on with the book. I loved the simplicity of the characters. There was Officer Boulli who made we want to smack him right across the face to help him realize that he was an idiot. The other characters shared the sentiments- 😛
Here's what Savannah was thinking when Officer Boulli asked her to describe things in her own words. I totally agree with her. 😛
The list of suspects was clear to Savannah. It had to be one of the two people who were too eager to buy Webb's Glass Shop. Frank- who used to work at Webb's and now owned his own business and Smythe- who was there to buy the properties so that his company could demolish the area and have new build-ups. When Jacob, her dad's apprentice was arrested, she knew she had to something to prove that he was innocent.The answer however was nothing she ever expected.
Finally when the mystery was solved, Savannah brushed off Frank and Smythe and decided to stay back home in Florida with her new friends and the glass shop. 🙂
Finally, if any of you guys read the book then I would like to get my doubt cleared. Savannah had only talked to Officer Parker, who was assigned to work on Savannah's case and was Officer Boulli's senior, over the phone. So, how did Savannah recognize that it was Detective Parker who came to save her when she was practically seeing him for the first time? (Did I miss something?
)
---
Why would I pick it up?
It's a cool puzzle mystery. If you are interested in solving puzzles then this might be the book for you. 😉 🙂