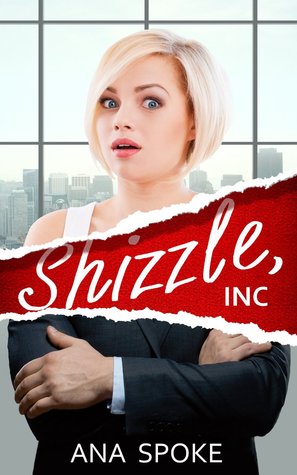 Title: Shizzle, Inc (Isa Maxwell #1)
Author: Ana Spoke
Genre: Comedy, Humor, Women's Fiction
Publishing date: 4th September, 2015
Published by: Ana Spoke
Pages: 274
My Rating: 5/5 stars  
*Book received from the publisher in exchange for an honest review*
---
Synopsis:
Isa Maxwell is an average busty blond, a recent graduate of a community college, and rap-loving, gun-toting, self-proclaimed badass. More than anything else, Isa wants to be discovered, so that she can solve her financial woes and win back Brad, the love of her life.
Thanks to her clumsiness, street smarts, and unbelievable bit of luck, Isa, lands a dream job at Shizzle, Inc. Things start to look up when Mr. Hue, the playboy billionaire owner of Shizzle, Inc takes Isa under his wing. Isa even gets a number of new love interests, but all is not what it seems. In fact, absolutely nothing is what it seems.
Can Isa survive the tough world of corporate intrigue and constant looming bodily harm? Or will her efforts be the end of Shizzle, Inc and possibly her life?
---
My Take:
Shizzle, Inc is a book by a fellow blogger, Ana Spoke and I am seriously very proud of the fact that the book didn't disappoint me. To be honest, being critical of things, by the people we enjoy, is difficult. When I got this book I was sure that I was going to love it because well, it kind of felt as if I was there when Ana wrote it. She was so good in documenting the process of her book. Though I joined on the journey from the cover selection part but feels like I was right there from the start. 😀
It is one of the most hilarious books I have read in a while, appropriately placed puns was just in tune with the story. Nothing looked forced or out of place. The writing is very good and I love the fact that all the characters had the writer's undivided attention, even the supporting characters. It so happens that when some scene revolves around the main character, the authors forget to register what the side character's reactions might have been but this book had it all.
None of the character forgot to be what they were supposed to be throughout the book. 😛 There were times I was laughing really very hard. 😛 It only seemed fair to involve some examples of the smart-ass puns because why not? 😛 Let's laugh together. 😛
---
Like, Wow! Some of the really smart come backs I have read. 😛 The characters were spot on hilarious. The main character Isa Maxwell, is so ignorant that it makes her funny as hell, Her boss, Mr. Hue is a classified idiot, Isa's mother, dad, sister, her best friend have really very unique personalities and no character failed to make be laugh. They were so stupid sometimes that it all made sense. 😛
Here's some for Isa's work ability (which she had none) 😛 But we have to give it to the girl for faking a Harvard certificate and winning a national hunt. (How much ever stupid that seemed. 😛 )
I don't expect much philosophy in a comedy book but hell, that's a huge twist to the basic "Give a man a fish and you will feed him for a day, teach him how to fish and he will feed himself for life." 😛 😛 It seems to project what our world has really come to.
The chapter titles were a smart move. They gave you an idea on what the chapter was about and they were a quote from the chapter itself. I found that really unique. 😀 Now-a-days all you find is the chapter to be numbered but having an actual title makes it fun. I really wanted to include the index page as to give you guys an example of what I mean but I am going to hold myself because I have already included a lot of pictures. (Arghh… I can't seem to determine which snapshots should go in and which shouldn't. I include all my highlighted lines. 😛 )
All in all, this is a good book. Smart, hilarious, and fun. It definitely is worth the while. 😀 😀
---
Why would I pick it up?
Everybody needs a good laugh, don't they? 😉 😛