Do you guys remember the time I kind of fangirled about a book named "Tear Drop"? Wasn't long ago, right? 😉 If you don't then check it out here. 😀
I was so impressed by this book that I decided to let my feelings known. I contacted the person who created this impressive piece and she turned out to be so sweet that I couldn't help ask her for an interview. Without further delay, I present to you guys, *drumrolls please*, JOANNE CLANCY. (Did I tell you I love your name because I do. 😉 🙂 )
---
A lit bit about Joanne-
Joanne Clancy is a Kindle All-Star and an Amazon Breakthrough Novel Award quarter-finalist. Joanne is an Irish mystery writer, from Cork, Ireland. She is an avid reader, a self-confessed Kindle addict, and a tea fiend!
Her books combine murder, mystery, and suspense with a twist of psychological drama.
Her crime books have consistently hit the Amazon paid bestseller lists in Crime, Thrillers & Mystery.
Joanne's latest release is TEAR DROP (Detective Elizabeth Ireland Crime Thriller Series, Book 1). She is currently working on her twenty-sixth book, INSINCERE (Detective Elizabeth Ireland Crime Thriller Series, Book 2) which is available to pre-order now at Amazon and will be released on October 21st 2015.
---
BOOKS BY JOANNE CLANCY
Crime Novels:
*Tear Drop (Detective Elizabeth Ireland, Book 1)
*Insincere (Detective Elizabeth Ireland, Book 2)
*Open Your Eyes
*Return to Me
*I Should Have Told You
*Before I'm Gone
*The Gift
*The Detective's Wife
*If You Tell Anyone
*Traceless
*Killing Time
*Watched
*A Daughter's Secret
*Killer Friends
*Shattered
*The Offering
Romance Novels
*The Unfaithful Series:
*Unfaithfully Yours
*Revenge
*Web of Deceit
*The Secrets & Lies Trilogy:
*Secrets & Lies
*Aftermath
*Redemption
*Unforgettable Embrace
*The Wedding Day
I decided to make this interview fun by dividing it into 3 categories and convenient too.
---
Questions related to Joanne's book (Tear Drop):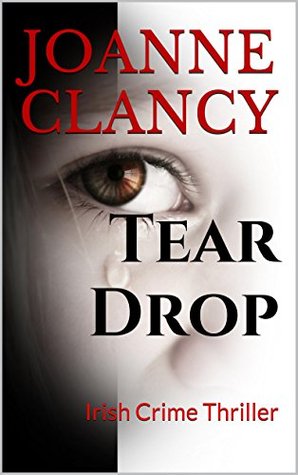 1. What made you choose the name, Elizabeth Ireland, for the protagonist?
I've always loved the name Elizabeth. I think the name suits my female protagonist's character; it's a no-nonsense name for a no-nonsense character, but has a certain element of mystery because of it's regal association.
2. What makes Elizabeth, according to you, different from the other detectives in the story apart from her secret?
I think the cases affect Elizabeth more than the other detectives. She tends to see the humanity in others. For her, detective work is getting to the heart of the matter, whereas for the other detectives it's all about solving the case, and when it's done, it's done. Elizabeth is far from perfect, but she makes no apologies for who she is. She tries to portray a tough exterior, but deep down she's a big softie with a heart of gold.
3. That felt like talking about a real person. 😛 Will we get a better picture on Elizabeth's and Frank's relationship in the further books? (I really confused him as her friend in the beginning)
Yes, there will be more on their relationship in future books, but even I'm not sure what's in store for them…stay tuned…
4. Were there alternate endings you considered?
I had a few other killers in mind, but I'm happy with my final decision.
5. Which character from the book did you find the easiest to write about?
Elizabeth Ireland was the easiest character to write about. I like her cheeky sense of humour and her directness. She's far from perfect, but makes no apologies for who she is. She tries to portray a tough exterior, but deep down she's a big softie with a heart of gold. In previous books, I've tended to over-think my characters a little, but with Elizabeth I just let her voice take over in my head as I write.
We are quite alike in some ways, and I've always been fascinated by the life of a private detective and all the secrets they discover or are told, so Elizabeth's character allowed me to indulge that side of myself.
6. What got left out in the final draft? 😛
Apart from a few minor adjustments I didn't leave out anything major.
Questions related to being an author:
1. Are you a plotter or pantster?
I used to be a pantster, but I'm a definite plotter now. I write an outline of the story and then I plot it chapter by chapter, but I do leave some room for manoeuvre.
2. What's more important for you: characters or plot?
Both are equally important, I believe, but great characters drive the plot.
3. You have 26 books out there already. How long on average does it take you to write a book?
I aim to write 3,000 words 6 days a week.
I try to get the first draft written within a few weeks. I write lots of notes on the first draft to follow up later when I'm editing because I don't like to interrupt the flow by getting bogged down in too many details initially. The second draft is all about the follow-up and fleshing out the story and characters. The third draft is where I tighten everything up. Fourth draft is the final writing round. From start to finish, it probably takes me about six weeks to write a book.
4. Is there a certain type of scene that's harder for you to write than others?
I don't like writing very bloody or gory scenes, so I try to avoid them as much as possible. I prefer to hint at a gruesome scene rather than go in to graphic detail.
5. We know your books are mainly psychological mystery/thriller but which other genre you would want to try your hands on?
I started writing romance novels, then went into romantic suspense, and finally mystery / thriller. Mystery/ thriller writing is definitely my favourite genre.
6. Tell us about the covers and how they came about. (All 26 of your books have beautiful covers. 

 )
Thank you
I base the covers on a key theme or scene in the book, then I spend weeks looking through stock photos to try to find the ideal cover shot.
Proof of the beautiful covers:
All the pictures are linked back to their Goodreads pages. Do check them out and check out the list of her books here. 🙂
Btw, Being the sweetheart she is, Joanne sends out free ebooks to her readers. Get lucky! 😀 Sign up for Joanne's mailing list at www.JoanneClancy.com to receive three best-selling mystery books for FREE! 😀
Questions for fun: 
1. Do you have any scars? What are they from?
I still have scars on my knees from all the falls I had as a child.
2. What do you want your tombstone to say?
99 per cent angel, but oh that 1 per cent!
3. Characters often find them in situations that they aren't sure they can get themselves out of. When was the last time you found yourself in a situation that was hard to get out of and what did you do?
Someone broke into my house and crept up the stairs to my bedroom. I tiptoed across the room and pushed my bookcase against the door. When they tried to push the door open, they hit the bookcase and ran! They were never caught, but I can say that my quick thinking and my bookcase saved me….
(Books, hehehhe. 😛 That's what they do. They save you. 😛 )
4. Share a fun fact with us before signing off.
I wrote my first 16 books in a campervan.
---
Wow! That was fun, wasn't it? 😀 Stay tuned for the Giveaway of Joanne's Book "Tear Drop". The book that introduced me to her. I will be hosting a giveaway in October. Try to get the book so that we can discuss it. 😀
Before I sign off for today. I would really love to Thank Joanne, for being so sweet and down-to-earth and putting up with me. 😛 Seriously, I will soon have read all your books because "Tear Drop" sold me on it. 🙂 🙂 ❤ ❤