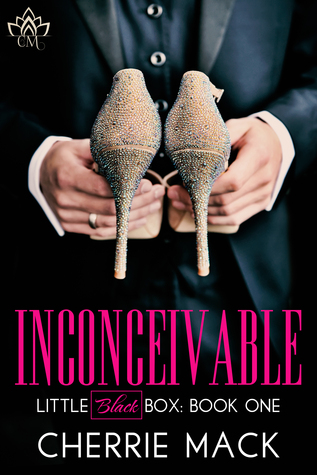 Title: Inconceivable (Little Black Box, Book One)
Author: Cherrie Mack
Genre: Romance, Fantasy
Publishing date: 2nd September, 2015
My Rating: 4/5 stars  
*ARC received from NetGalley in exchange for an honest review*
---
Synopsis:
When Prince Charming comes looking for the woman who stole his heart at a Manhattan shoe store, he instead finds her stepsister, Allie. Allie doesn't leave the best impression with the handsome Zach Brady, who quickly dismisses her as the maid. But an unusual fairy godmother with bulging biceps, long hair, and a cool demeanor has plans for her. Can Allie keep herself from falling for the wrong man and convince him to help her snag Zach? This duo quickly learns that sometimes if the shoe fits, the pair could be all wrong.
---
My Take:
This is yet another version of the Cinderella story and much different from what we have all read till now. Imagine a pierced, tattooed, long-haired, biker dude as your fairy Godmother. 😛
Funny, isn't it? 😛
From the start I knew that Zach wasn't Allie's prince charming. You get a feeling of this sorts when a character is introduced. So, there was this feeling throughout.
The way Angelo, Allie's fairy godmother, (That's not his real name, btw) makes Allie realize that she couldn't ever be truly happy unless she stops her pity party is what most of the brooding people need to learn. I love how many books have a lesson in their easy-going story and this was no different.
Not judging a book by a cover is what Allie thinks she does but she actually judges people by what they look like. Zach, Angelo, her sister – Adrienne, everyone is not what she assumes them to be, in fact they turn out completely opposite to her judgements.
The Little Black Box, that her stepdad left for her when he died, is what starts it all. Allie's chase to find happiness and in turn finding herself and her love.
She gets a best friend in a stepsister whom she started out hating. A Little Black Box changes everything. Makes her appreciate herself and work for her own happiness and gives her people she loves and who love her in return.
In the end when she gives the Little Black Box to someone else, I was sure that that was going to be the second book in the Little Black Box series and then when I turn the page I find out that that is what is actually going to happen. I can't wait to get my hands on the second book. All in all this was a good read. 😀
---
Why would I pick it up?
Because it is a perfect read for the beach or some place you are just chilling. 😀 😀
---
Get it here-
||Amazon||